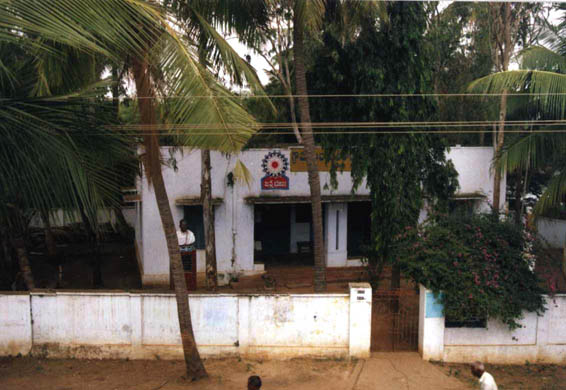 Govada Village Panchayat
---
| | | |
| --- | --- | --- |
| Year /Date of Elections | President | Vice President |
| - | Pavuluri. Venkaiah Chowdary | Tummala.Surya Naarayana |
| 1933 | Pavuluri. Venkaiah Chowdary | Tummala.Surya Naarayana |
| 9-1-1936 | Tummala. Surya Narayana | Pavuluri. Raghavaiah (Hanu) |
| 9-12-1939 | Tummala. Surya Narayana | Pavuluri. Raghavaiah (Hanu) |
| 27-7-1941 | Tummala. Surya Narayana | Pavuluri. Raghavaiah (Hanu) |
| 1953 | Pavuluri. Venkaiah Chowdary | Tummala.Surya Naarayana |
| 26-7-1956 | Tummala. Bapaiah | Nayudu.Yohan (SC) |
| 30-9-1959 | Tolu. Raghavaiah | Pavuluri. Kesavaiaah |
| 31-5-1964 | Pavuluri. Peda Basava Punnaiah | Nannapaneni. Srimannarayana |
| 11-6-1970 | Alapati. Surya Kumar | Pavuluri. Gopala Krishnaiah |
| 20-05-1981 | Mandava. Venkateswara Rao | - |
| 2-3-1988 | Uppala. Srimannarayana | Alapati. Sambaiah |
| 1995 –Till Date | Tolu.Nagaraja Kumari | Pavuluri. Lakshmi Narayana |


Panchayat History

At the time of Justice Party ruling the Common Madras State Govt. has made an act encouraging Self ruling in Villages. Late Panguluri. Narasimha Rao has brought motivation in the people by establishing the panchayat boards in all villages. He and Late.Nimmagadda Pichaiah Varma , Guntur district Panchayats organizer came to Govada in April 1930. They were conducted a meeting and explained the significance of Panchayats. For the first time they were established Govada Village Panchayat Board immediately after the meeting. With the appreciation of all villagers they were appointed Sri. Pavuluri Venkaiah Chowdary as president, Sri.Tummala Surya Narayana as Vice President and 15 others as members. The first Panchayat Board with the help of villagers has finished Clay roads in the Villages.

Again in 1933 elections Sri. Pavuluri Venkaiah Chowdary was elected as president and Sri.Tummala Surya Narayana as Vice President. All Clay roads were finished. Cement pipes were set up At all necessary places. Sri.Tummala Surya Narayana with the help of Villagers executed all the works.

In 9-1-1936 elections with the advice of Sri. Pavuluri Venkaiah Chowdary, Sri Tummala Surya Narayana was nominated anonymously as President and Sri.Pavuluri. Raghavaiah (Hanu) as vice president. With the help of district board asst. engineer late. Kotta Venkaiah Chowdary roads were reformed with Sand and back clay. In 1938 rubbish roads were formed. On 21-1-1936 he was elected as Guntur District Board member behalf of Congress Party from Amrutaluru Firka. Sri. Alapaaati surya Narayana who was contested as rebel congress candidate for District board was defeated. From 22-9-1938 on wards the Panchaayat Board people were introduced hanging petro max lights.

In 1939 for the income of Sri Rajaraja narendra library were introduced Unique balance for the sale of Grains. In 1940 concrete roads were formed. In 1941 with Madras Govt. Grant a clay road was set up between Govada and Panchalavaram route for a length of 2 Miles 5 furlongs. In 1942 a clay road Of 2 miles 5 furlongs was set up between Govada and Gudavalli route. Similarly in 1943 also a clay road Of 2 miles 5 furlongs was set up between Govada and Kavuru route. Besides the roads trees were also planted. Due to Second World War the same committees were continued without elections.

In 1945-1946 for the Govada and Kavur road metal road was set up upto a limited distance. By the time of Independence Day a Radio was bought kept at Library behalf of Panchayat. The maintenance duties were given to Sri. Karasala. Kotaiah.

In 26-7-1956 elections were conducted through Secret Ballet. Mr. Nayudu Yohan a SC candidate was elected as Vice President. This was the first time a SC candidate was elected for Panchyat. In 19-11-1956 ALL INDIA KHADI BOARD was established AMBARU CHARAKHA KENDRAM through Smt.Gogineni Bharati Devi. In 11-11-1957 the coconut trees were planted at various place of Govada. On 21-4-1958 chief minister Sri.Neelam Sanjeeva Reddy was inaugurated a Veternary Hospital in Govada. Finance Minister Sri. Kasu Brahmananda Reddy was given Presidential Speech. On 15-3-1959 Agriculture minister Sri. PeddiReddy Timma Reddy was set up Foundation Stone for Govada Village Panchayat Building. Due to the absence of president Sri. Tummala Bapaiah Vice President Nayudu Yohan. Was made powers delegate. In the Presedential period of Sri.Raghavaiah Panchayat office Building, Bridge on Pedda Kaluva of Govada-Elavarru route, Veternary Hospital Building was built. On 24-1-1964 Govada Village has got Power Supply.

On 15-4-1965 in the period of Sri. Nannapaneni. Basava Punnaiah Milk Booth was started. On 27-10-1968 minister Sri. Peddireddy Timma Reddy was set foundation stone to Milk Booth. Minister of Fisheries Sri. Venegalla Satya Narayana was given presidential speech.

In the period of Sri. Alapati. Surya Kumar Water Supply Scheme was executed. On 1-6-1976 Sri.Pavuluri Vankaiah Chowdary Z.P. High School Silver Jubilee was celebrated by the presidential Addressing of Justice Sri.Avula Samba Siva Rao. Sri. Acharya Ranga was inaugurated the meeting. Ministers Sri.Mandava Venkata Krishna Rao, Damodara Muni swamy, Pragada Kotaiah, PeddiReddy Timma Reddy, Yadlapati Venkata Rao, Yarlagadda Ranganayakulu were also participated in the meeting. On 28th, 29th and 30-1-1977 The Bapatla Agricultural Branch people were conducted a training program to the farmers.

In the period of Sri. Uppala Srimannarayana a permanent building was built for Rajaraja narendra library. This library was affiliated to District library.

president post was allocated to woman candidate. Smt. Tolu. Nagaraja Kumari was elected as president and Sri. Pavuluri. Lakshmi Narayana as Vice President. Water Supply Scheme was introduced from Sri. Balakoteswara swamy temple to Govada village. Cement roads were built.